If you have already decided that RPA is the way forward for your organization, you need to learn to ensure that it delivers the benefits you expect. Most RPA implementations lack a process and strategy.
You cannot rush an RPA implementation. Depending on the complexity of your processes and operations, set a realistic and practical implementation plan so that the outcomes are predictable, and you automate in a phased manner.
RPA service providers often fail to identify processes in your organization that qualify for intelligent automation and the ones that are most suited for RPA. If the business process is too complex and needs human intervention, it can be better managed with intelligent automation. If the process gives the same outcome even in a changing environment, it qualifies for RPA. If the process needs decision-making that varies as per different situations, the process should not qualify for automation.
I intend to elaborate in this blog that there must be a right way to do a comprehensive and robust RPA implementation strategy. I will debrief five critical steps to defining a clear and output-driven RPA implementation strategy.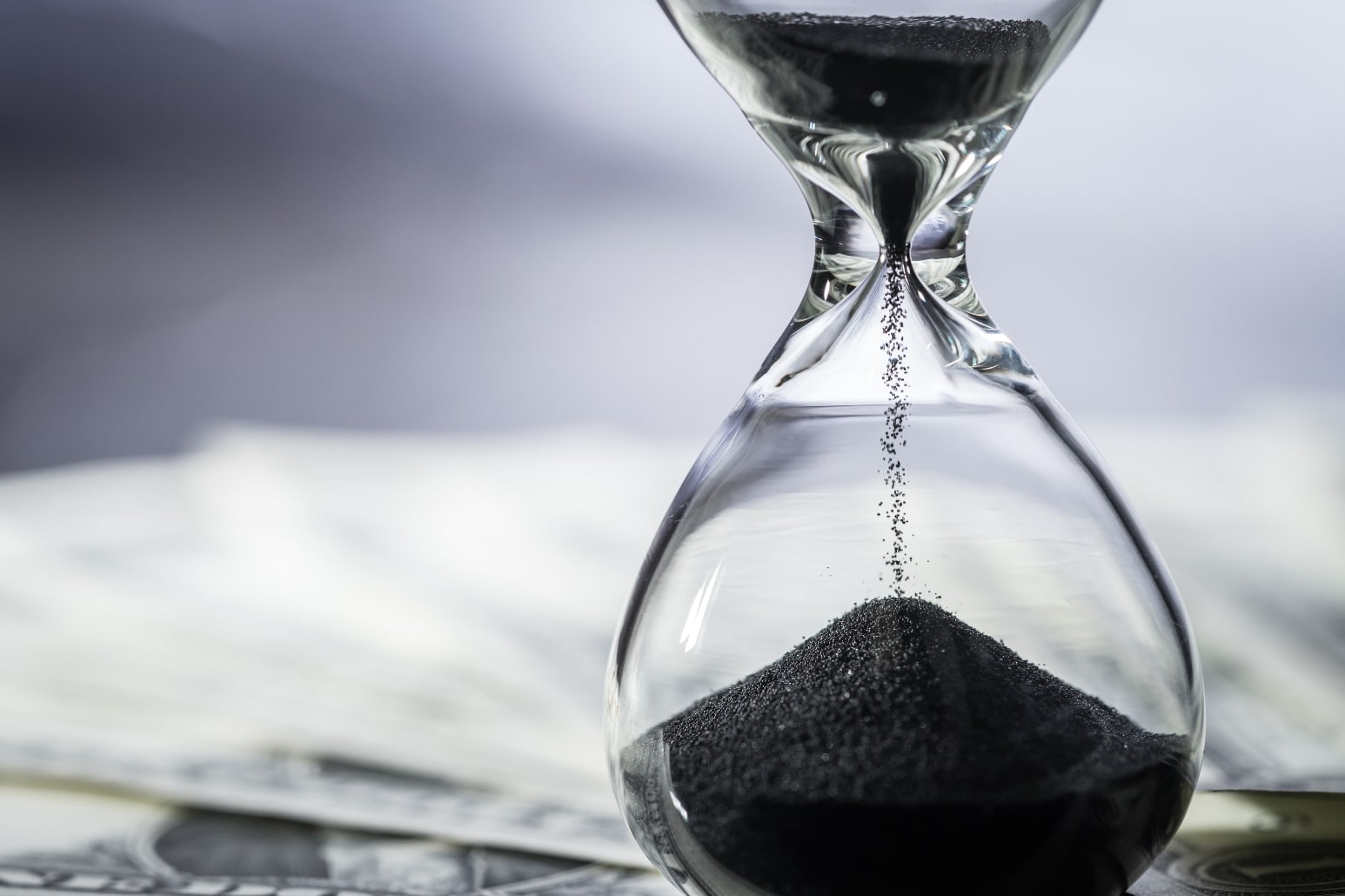 Invest Time in this Blog to Learn –
Five steps that make a successful RPA implementation strategy
What is a Successful RPA Implementation Strategy?
RPA implementation strategy is the core of a successful automation journey. The strategy, however, is not a one-size-fits-all plan but has unique elements that depend on the business processes of the organization. Organizations scale their RPA program, manage, and maintain their processes, and account for a holistic change in their operations. Therefore, you must partner with a reliable RPA service provider to create a business-focused and value-based RPA implementation strategy.
1. Find assessment opportunities
RPA can deliver tangible results, starting with business process analysis or mining. As you begin the RPA implementation, you will first need to assess the process landscape to find processes that need manual interaction and are rule-based. For example, there are explicit and implicit processes in an enterprise. Explicit processes are easier to perform as they are well-documented and require minor human intervention. On the other hand, implicit processes are stuck in people's heads (or maybe they are not a standard process) that must be listed before starting anything else in your RPA journey.
Also, remember that automation is not the same as intelligence. Processes that need perception or a plan to succeed do not qualify for automation. For example, you can automate your dishwasher, but that doesn't make it intelligent.
I can't stress more the importance of this phase and the need for you to partner with an experienced RPA service provider to plan the objectives, project roles, responsibilities, and the future.
The next critical aspect is getting the buy-in from the key stakeholders and a clear picture of the cost savings of each automated process.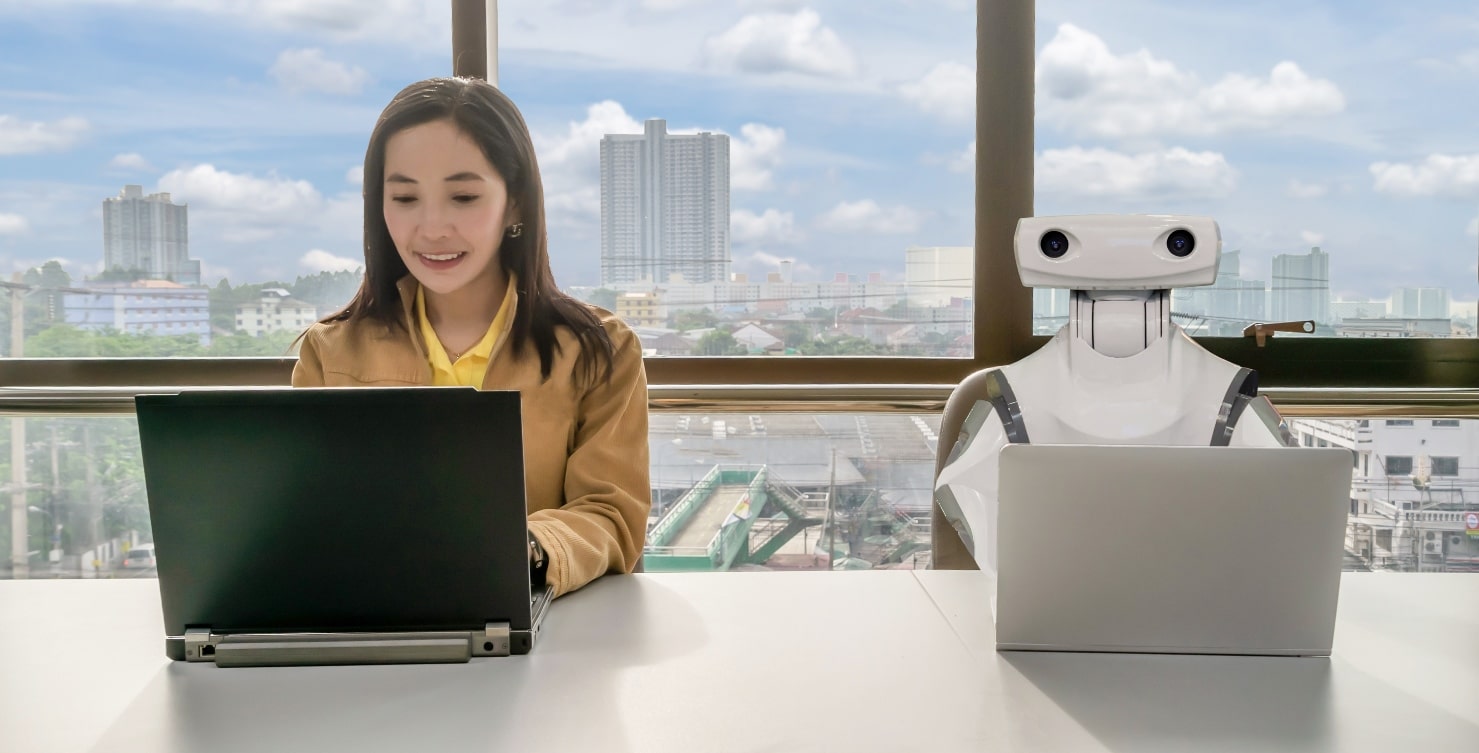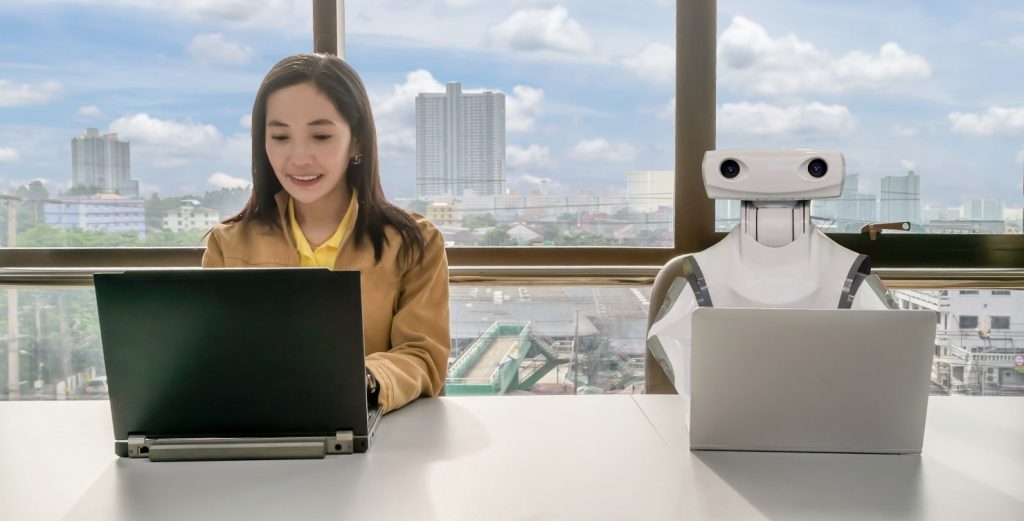 2. Build a business case
At this stage, enumerate the benefits of each process automation and define the desired outcomes from RPA implementation. You should also find an answer to finding ways of maximizing value from RPA implementation. For example, if automation will help your free up resources, how will you use them?
As you develop a business case for RPA implementation, it is recommended that you plan a pilot transition to prove the concept and experience the transformation. With a pilot, you can better understand the potential and limitations of automation.
3. Define an Automation Operating Model (AOM)
AOM is a structured plan to scale automation seamlessly and effectively. It encapsulates program management decisions like the roles and responsibilities, Governance structure, and infrastructure management.
When you decide on the AOM option, you must decide whether you need a strategic automation capability or an automated outcome. Based on this decision, you can select the most suitable sourcing options. You will need people to assess, manage, and prioritize processes and software bots for an internal capability.
For organizations seeking an automation tool to relieve a few mundane tasks, RPA must be executed by skilled and knowledgeable technology experts. Some organizations use the Automation Centre of Excellence of the RPA service provider to train and facilitate their internal teams.
There are three sourcing options. The first is when you directly buy an RPA license from a vendor and implement it on your own or the second option is when you buy the license from the vendor and engage with a services provider to automate. In the third option, you could complete outsourcing automation as a business-as-a-service.
Automate Business Processes to Accelerate Productivity
4. Find an automation partner
You need to evaluate the industry and domain experience, process knowledge, and expertise in automation tools before partnering with an RPA solution provider. Additionally, you can assess vendor demos and check their success stories to learn how they address different clients' challenges.
Explore if the available pricing models of the RPA vendor match your business objectives. It is always better to share documented details with the vendors that you evaluate and compare based on price, size, experience, and RPA partnerships. Speak to our RPA CoE leaders to learn why Nsight is the right partner for your business needs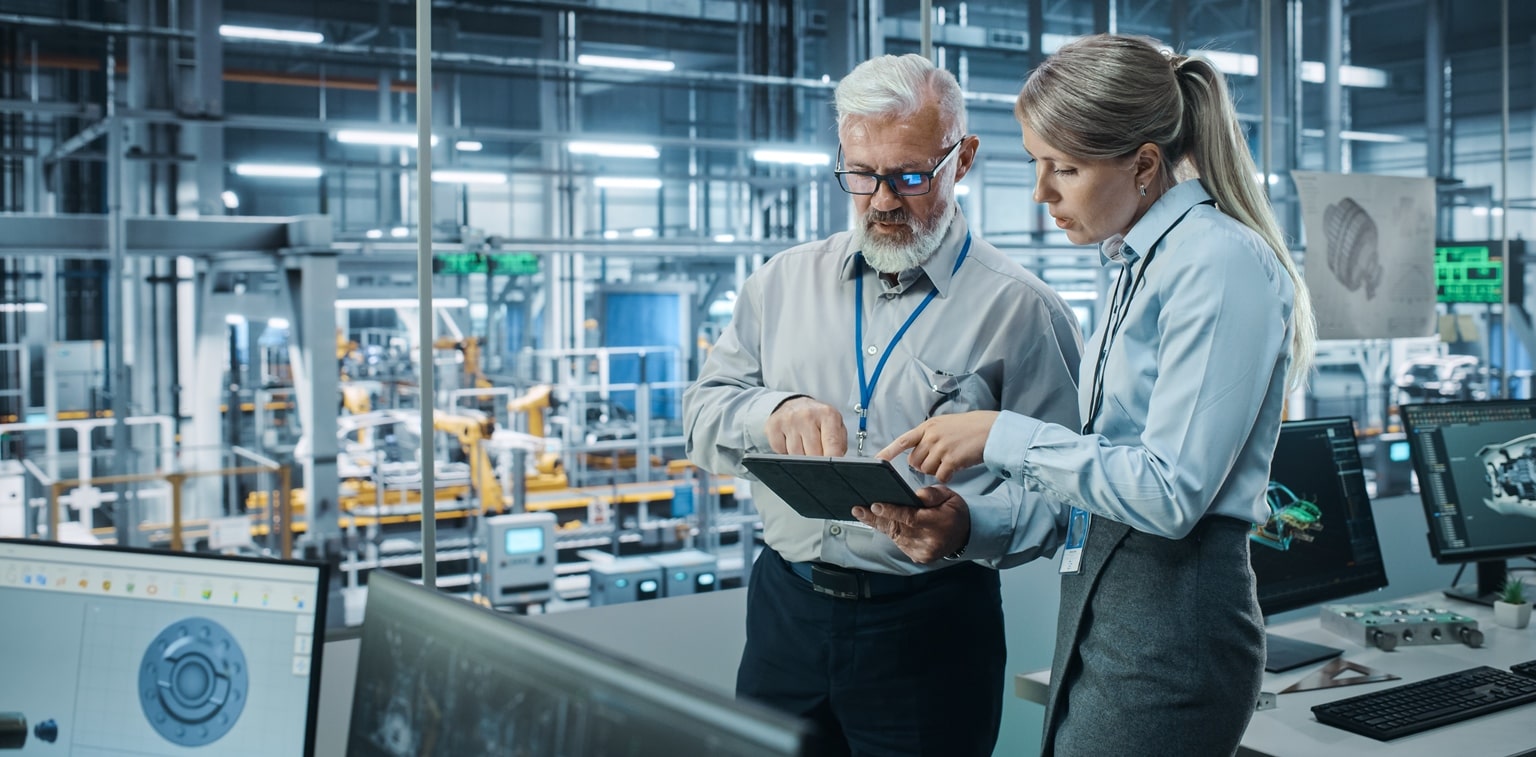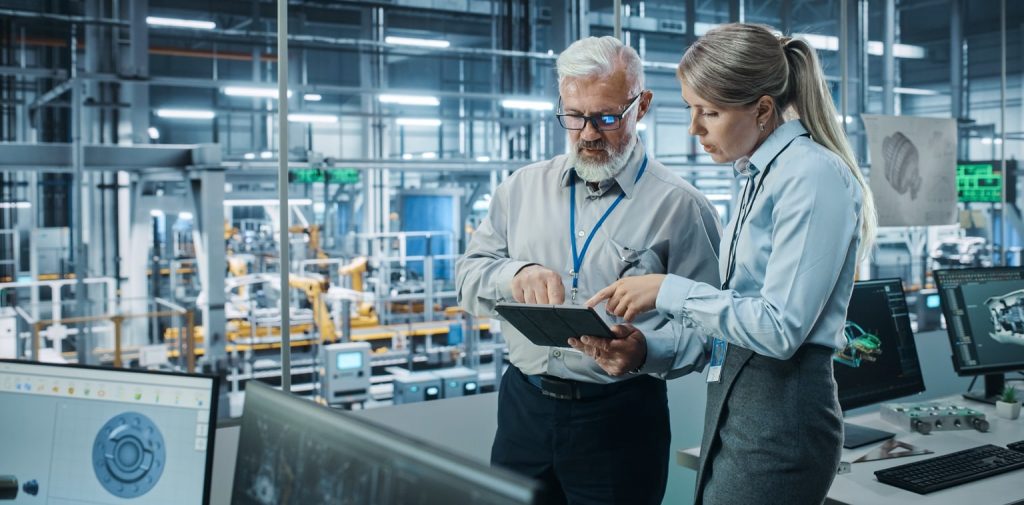 5. Determine an automation roadmap
The automation roadmap must go beyond the initial implementation and cover the long-term automation plan. You must identify any obstacles (like poor data quality) that can impact the effectiveness of RPA implementation. Include training and change management as part of the roadmap. When you work with a reliable automation partner, they can help you define the roadmap, identify the known and the unforeseen challenges, and include remediation solutions to address the challenges.
How can you choose the Perfect RPA Implementation Partner?
Once you know your goals and have a strategy for the automation process, here are a few things you should go through before shortlisting an RPA implementation partner:
• Reliability – Review completed projects to check if the implementation partner delivered as per the clients' expectations, irrespective of the workload.
• Expertise – An experienced RPA implementation partner must have extensive knowledge of automating front and back-office processes.
• Scalability – Check if the RPA implementation partner can support scalability plans and increase or decrease the scope of the implementation as per your unique requirements.
• Technology expertise – Evaluate the service provider's knowledge and experience on different RPA platforms.
• Reusability – Assess if the service provider offers reusable workflow modules for different automation needs.
• Industry knowledge – We have a team of professionals with first-hand experience across multiple industries in various technologies.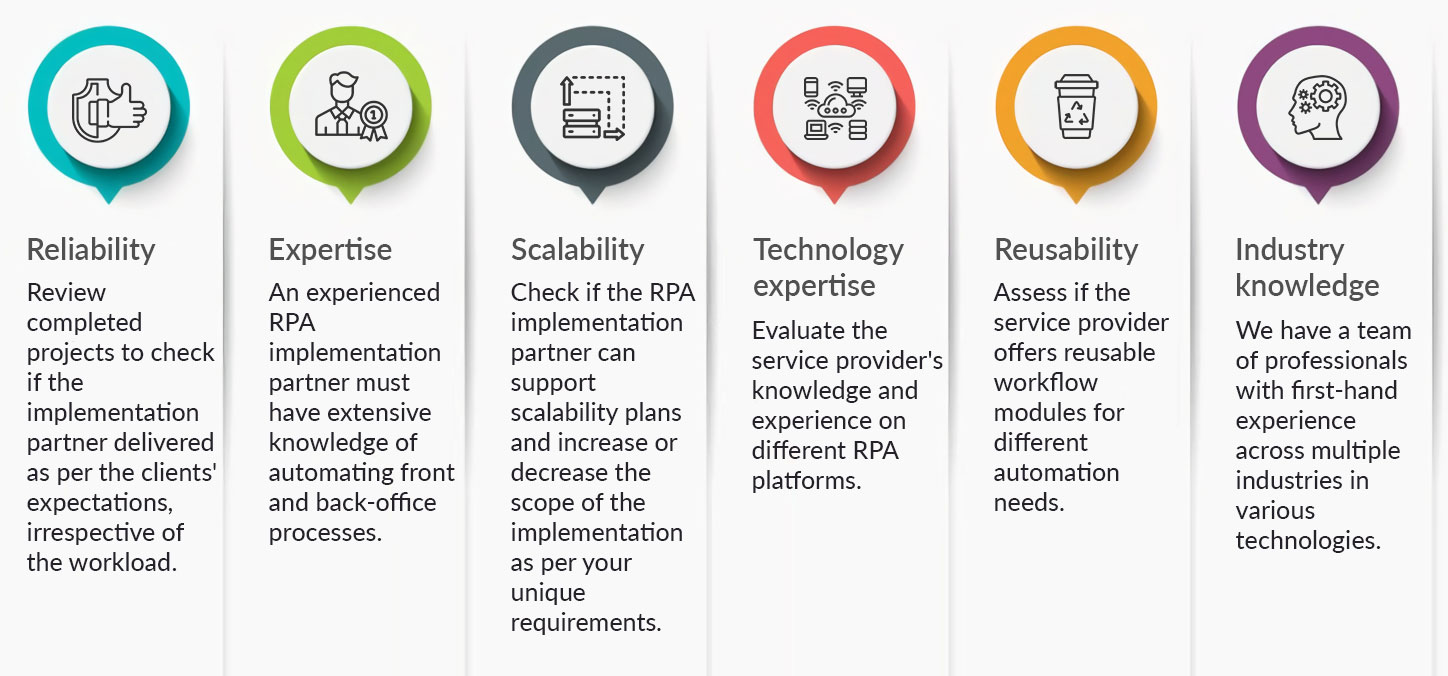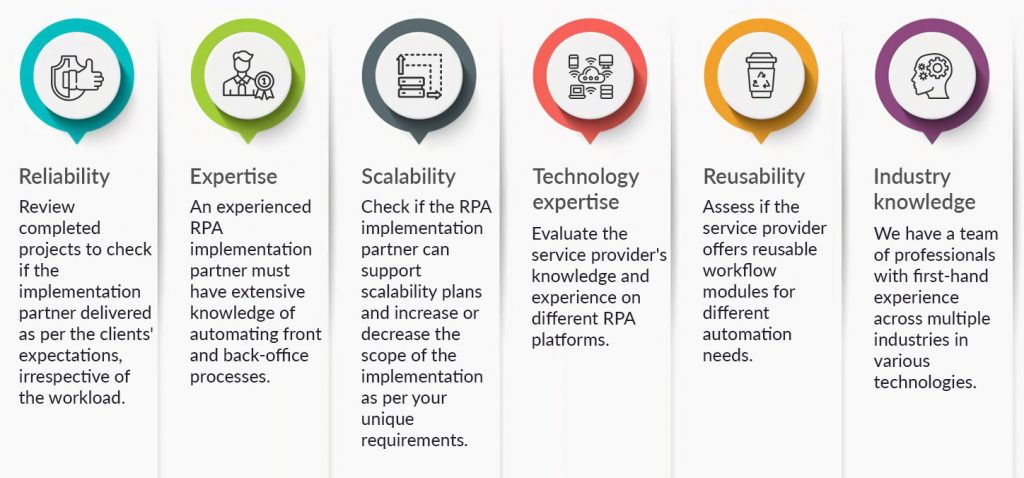 Conclusion
RPA is changing workplaces drastically. As today's businesses gear up for emerging technologies, robot-led automation is an initial step toward a forward-looking transition. It would be best to work closely with a partner with the process and business knowledge and an in-depth understanding of technology integration and analytics.
Several organizations are considering large-scale RPA deployment, given its several benefits. As the robotic solutions are growing more intelligent and robust, consider working with an RPA partner who knows the elements of a comprehensive and unfailing RPA implementation plan.
Enable RPA benefits with a trusted partner like Nsight. Connect with us to start a discussion.

To start your automation journey, here are a few pointers from me:
You cannot rush and implement RPA without a concrete plan and strategy.
RPA implementation is not a one-for-all plan but consists of unique elements depending on your business requirements.
The five steps (covered in this guide) assist you in strategizing the implementation, development, and launch of RPA within your organization.
Automate your business, expand your digital footprint and be a part of the digital transformation.