"Data is a precious thing and will last longer than the systems themselves."
– Tim Berners-Lee
The foundation of current trends lies in data, and if you aim to stay competitive in the market, you must leverage big data to anticipate industry shifts. Data management is a crucial part of modern businesses. In the era of big data, companies need to process and analyze vast amounts of data to extract valuable insights and make informed decisions. However, managing data is a complex and time-consuming process, and it requires specialized skills and tools. That is precisely why SAP has developed Datasphere, a powerful data management service that simplifies the collection, integration, and analysis of data.
Let's deep dive into SAP Datasphere
The SAP Business Technology Platform (SAP BTP) is the building block for SAP Datasphere, a top-tier data service. It offers a complete suite of tools for integrating, modeling, warehousing, federating, and virtualizing data, providing seamless and scalable access to critical business data.
With SAP Datasphere's unified experience, data professionals can distribute important business data while preserving context and logic, allowing for better and faster decision-making. Its advanced data flow capabilities and enriched business semantic layer make data discovery, modeling, and distribution easier and faster than ever before.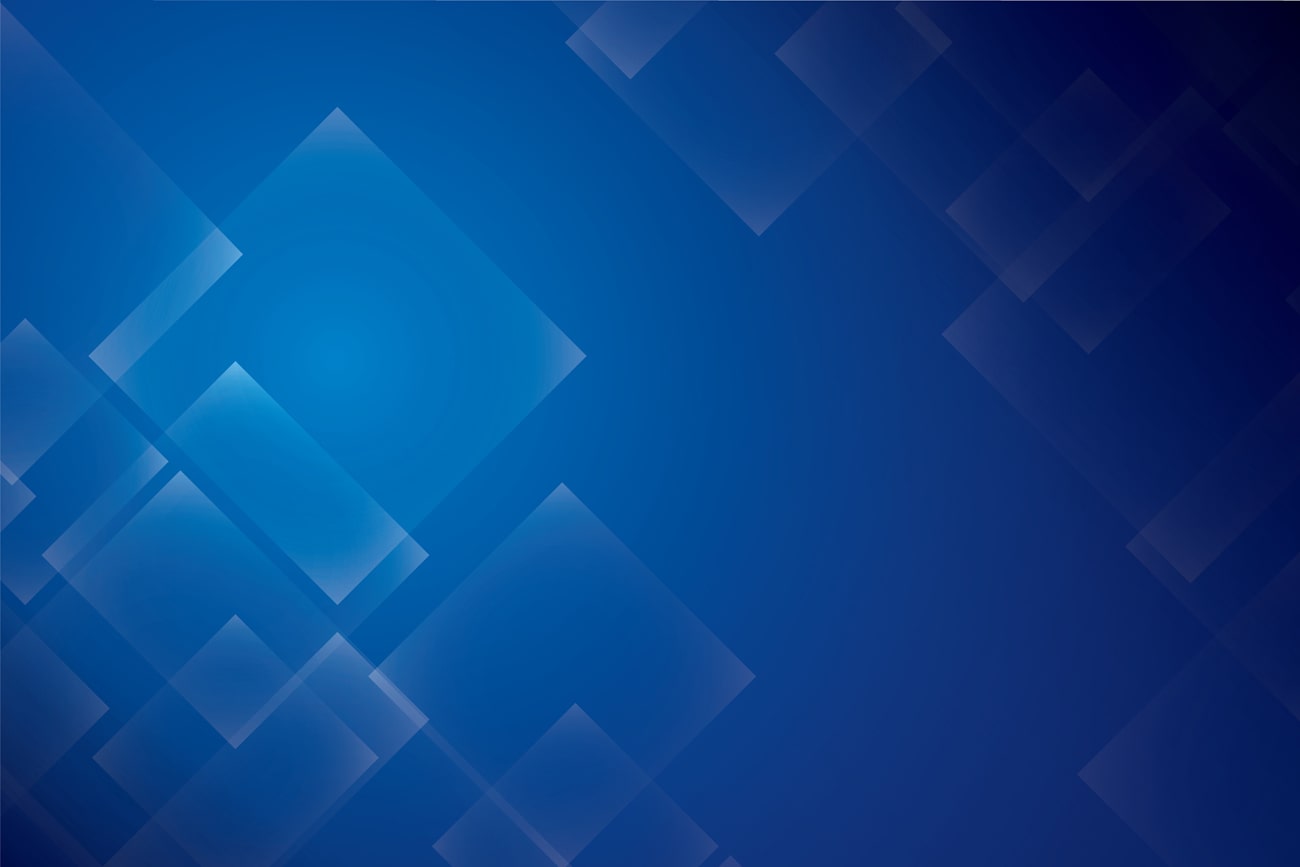 Here's what you will discover in this blog:
What is SAP Datasphere?
The SAP Datasphere is an upgraded version of the SAP Data Warehouse Cloud that offers additional features to improve data governance, precision, and thoroughness. For instance, the new data catalog acts as a centralized repository that describes all the data and metadata, including governance and lineage, ensuring data is up to date and complete.
With SAP Datasphere, businesses can effortlessly weave together disparate data sources, create a unified view of their data, and gain unparalleled insights into their operations.
SAP Datasphere running in SAP BTP
SAP Datasphere, the next-generation architecture helps data consumers such as those in planning and analytics, intelligent data applications, and data science. It also helps in connecting and extracting SAP and non-SAP data from applications, on-premises data warehouses, cloud data warehouses, relational databases and more. It offers several advanced modelling capabilities such as self service data access, data discovery, data governance and data ingestion to name a few. pls add before the graphic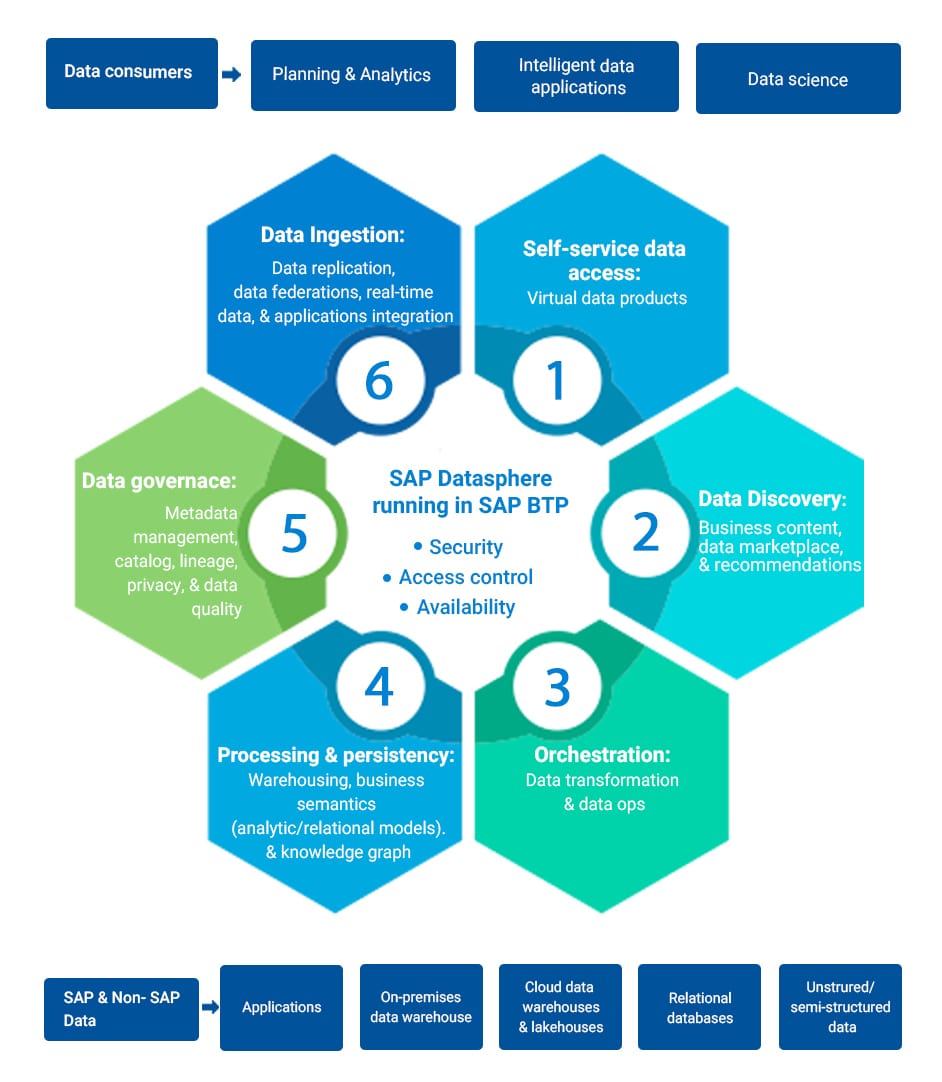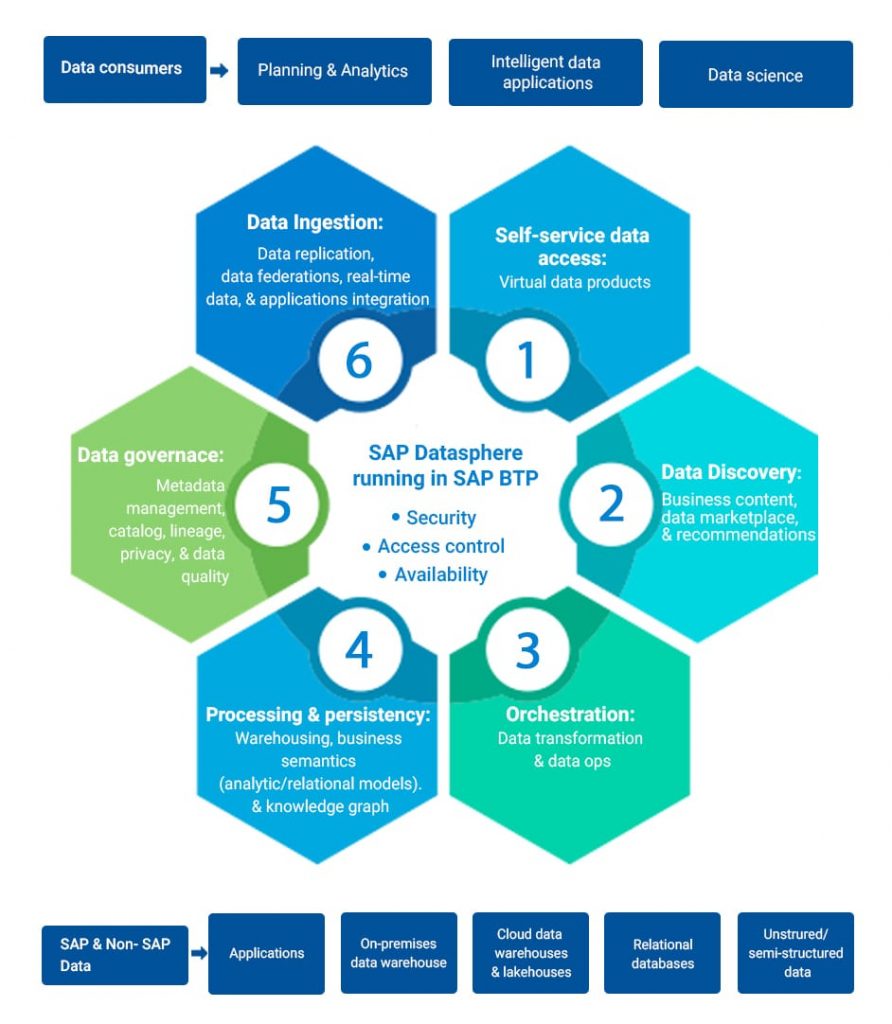 How does SAP Datasphere simplify your Data Management?
With seamless integration and unlimited scalability, the SAP Datasphere revolutionizes the way organizations handle mission-critical data, providing unparalleled opportunities for growth and success.
Here's how SAP Datasphere simplifies data management:
1. Enable a Robust Foundation For Data Fabric
SAP Datasphere serves as the technology base for a business data fabric, along with its open data ecosystem. This architecture simplifies the integration of an interconnected and semantically rich data layer across multiple underlying data landscapes, providing effortless and scalable access to data without any duplication.
SAP Datasphere offers several advantages as the basis for business data fabric architecture, such as top-quality resources, constantly accessible data, faster data retrieval for innovation, and emphasis on business data that provide concrete value. If you already use the SAP Data Warehouse cloud, you will be seamlessly transferred to SAP Datasphere without losing any current capabilities. This guarantees that you can persist in concentrating on the data relevant to your business and capitalize on a strong data fabric foundation. SAP Datasphere helps you to retrieve data rapidly, make more knowledgeable decisions, and stimulate innovation in your organization.
2. Get Hold of Authoritative Data
Customers often devote significant amounts of time and capital to extracting data from various sources to reconstruct the semantics, logic, and context that is already inherent in SAP S/4HANA or SAP SuccessFactors. SAP Datasphere addresses this problem by connecting data with a business semantic layer, allowing business users to self-service the model.
The SAP Datasphere Analytic Model provides advanced multi-dimensional capabilities, such as complex aggregations, time dependencies, and business hierarchies, among others, to expedite access to pertinent business data. Data professionals can select the business entities required for their use case while utilizing existing attributes, relationships, and relevant measures. This coherent, comprehensive, and targeted analytical experience helps to hasten the derivation of relevant insights.
3. Access a Structured Overview
SAP Datasphere Catalog is a feature-packed solution for efficient data management, simplifying data discovery and categorization using glossaries, custom-defined terms, and hierarchical tags. The data lineage feature allows for a comprehensive understanding of asset relationships and data movement, providing a structured overview of objects and spaces.
It can support data objects from various SAP applications and SAP Analytics Cloud, with plans to include other SAP applications such as SAP BW, SAP ECC, and SAP S/4 HANA. Furthermore, the tool aims to unify enterprise data, including non-SAP sources and collaborates with industry-leading data catalog partners like Collibra to provide reliable governed data throughout the organization. By utilizing SAP Datasphere Catalog, businesses can optimize their data management practices and confidently make informed decisions.
4. Amplify Your Data-driven Tasks
SAP Datasphere and SAP Data Warehouse Cloud have joined forces to enhance enterprise collaboration by allowing business and IT teams to easily access application data through pre-built integrations. A new data ingestion capability enables SAP Datasphere to automatically replicate data and create numerous pipelines without the need for manual configuration.
Users only need to select the source system and target location, and the system will handle the rest, configuring all the necessary pipelines for both initial data loads and ongoing changes with minimal user involvement. The pipelines are fully resilient and managed by the task, even restarting if necessary. This streamlined feature simplifies the process of replicating numerous tables automatically and continuously with minimal effort and overhead.
5. Untangle Data Framework
SAP Datasphere is all set to stir up SAP BW capabilities by serving as a bridge that enhances current investments in SAP BW and SAP BW/4HANA. The platform is equipped with ABAP-level extractors and a deep understanding of SAP data and relationships, which means users can use their existing SAP BW functionality and skills to transfer 70-80% of their SAP BW and SAP BW/4HANA artifacts to SAP Datasphere.
Furthermore, the upcoming application integration features will enable business teams to take advantage of pre-built business models and content packages, which are intended to expedite the onboarding of data and metadata from SAP business applications to SAP Datasphere. These packages retain business context and logic, making it simpler for businesses to derive insights from their SAP data while leveraging their existing investments in SAP BW and SAP BW/4HANA.
Take your first step towards mastering Data Management!
In the realm of running a successful business, data is the ruler. But with so much data available, it can be overwhelming to try and make sense of it all. That's where SAP Datasphere comes in.
We aim to provide you with:
Expertise and Experience
Increased Efficiency
Improved Data Quality
Adequate Compliance
Scalability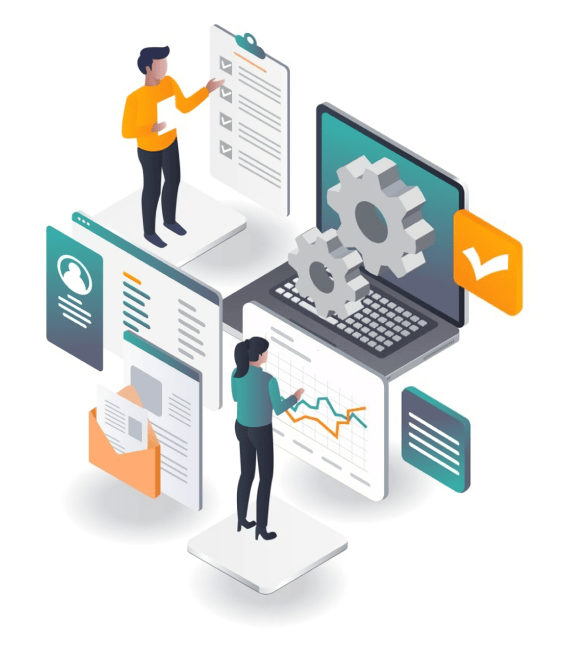 With the help of Nsight specialists you can implement the cutting-edge platform to seamlessly integrate data across your entire landscape, and get insights to make informed decisions and drive growth. Our experts can help you get control of your data, giving you the power to customize your analytics and visualization tools to fit specific needs. This means you can easily identify trends, spot opportunities, and make better decisions based on the data you have at your fingertips.
Get in touch with Nsight for more details!
About the Author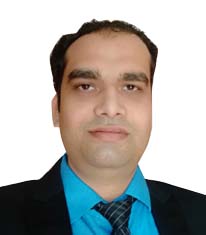 Sudhakar Jha has over a decade of experience in helping clients across multiple industries to adopt emerging technologies. He is a technology specialist who combines his innovative mindset to enable enterprises to leverage cutting-edge technologies like SAP S/4HANA. Sudhakar is an experienced solution leader and certified in multiple SAP technologies, including SAP S/4HANA.